MENU
---
3 DIS/LOCATIONs
September 12, 2015
It is with both happiness and pride that the DARE-DARE's Publication Committee announces the launch of 3 DIS/LOCATIONs. You are cordially invited to come celebrate this wonderful achievement with us.
3 DIS/LOCATIONs (Translated from French by Nils Lövgren)
This new volume looks back on the 3 last locations of DARE-DARE's mobile unit: Cabot Square, Walter-Stewart Park and the Quartier des spectacles. Five authors address various realities of artistic practices in public space, including instrumentalization, (in)visibility and the anti-spectacle.
AUTHORS
Martin Dufrasne, artistic coordinator for DARE-DARE, reflects in his preface on the philosophy that underpins the Dis/location project, and more specifically on the common thread that inspired this book.
Alain Deneault's caustically ironic text criticizes neoliberalism and contemporary society's fascination with the economy and with business rhetoric.
Julie Châteauvert, community relations coordinator for DARE-DARE between 2007 and 2010, delivers a first-person account via flashbacks and spurts of indignation on how tension ran high while the Centre was stationed in Cabot Square.
Suzanne Paquet addresses the notions of invisibility and vacuum that characterized DARE-DARE's fourth stay behind the JTI MacDonald factory. She puts forth the interesting concept of "blind spot" to characterize this area and time of transition.
Edith Brunette pursues her reflection upon forms of dominant discourse and the manner in which they represent the world by addressing cultural policies and their potentially insidious effect on creative environments.
Manon Tourigny, curator for the 2009, 2011 and 2013 editions of the VIVA! art action festival, examines the workings of artistic practices outside the gallery by artists selected by DARE-DARE.
Graphic Design : Design Denis Rioux
Publication Committee : Martin Dufrasne, Julie Fournier Lévesque, Frank Nobert, Valérie Perron, Denis Rioux and Manon Tourigny.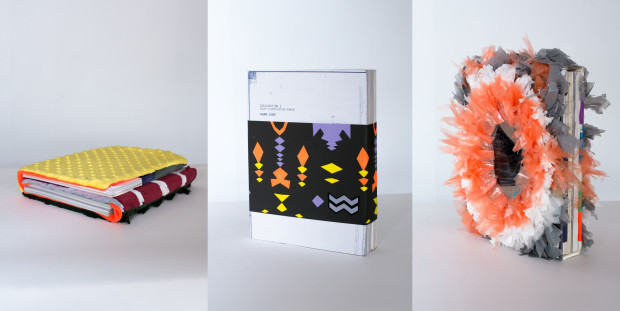 LIMITED EDITION BOX SET (left to right) : MONA SHARMA, DOMINIQUE PÉTRIN, FRANÇOIS LALUMIÈRE
(credits : Christian Bujold)
.